Best Flat Iron Hair Straightener Review for December, 2023 with Buying Guide
Anyone who has perfectly straight hair has fantasized at some point in their lives about having a mane of beautiful curls. Similarly, anyone who has distinctly curly hair has given at least a passing thought to what it would be like to have long, straight, shiny locks.
Those in the latter group are usually the ones who would rush to purchase the best flat iron as soon as they receive permission from their parents.
Nonetheless, women who dedicate a considerable amount of time and energy to hairstyling are likely to acquire a flat iron eventually, as it can prove to be an essential tool for eliminating frizz and achieving flawlessly styled waves.
Purchasing an electric flat iron is more complicated than it might seem, as there are a lot of choices on the market. Models can have different plate thicknesses, be basic or ionic, contain ceramic, tourmaline or titanium materials, and provide low or high heat.
It is therefore important to understand the differences or advantages of these types of flat irons. Making the wrong choice for your hair type can render a hair straightener virtually useless, or even worse, lead to serious hair damage.
Which Flat Iron is Right for Your Hair?
Here are some general guidelines that may assist in your understanding of which flat iron may be best for your hair type.
Thin plates work best on thin or short hair, which typically does not tolerate temperatures over 350°.
Wider plates are best for thick or long hair, which usually require temperatures between 370° and 400°.
Ionic models will lock in moisture and make hair shinier, while basic metal plate models can dry out and even burn hair.
Less expensive ceramic plates are fine for those with thin or primarily straight hair, while titanium or tourmaline plates are better for very curly or thick hair.
Titanium and tourmaline plates are said to generate more negative ions than ceramic ones, locking moisture into hair to smooth it, while repairing brittle or damaged strands. Tourmaline plates generate a lot of heat and therefore are very effective at straightening hair with just one pass. Typically, tourmaline plates are smoother, so they will not snag on thick or unmanageable hair.
Titanium flat irons work even faster, but can be very difficult to control and can dry out hair quickly if you choose a substandard model.
Flat irons come in a wide variety of colors, with fancy LED displays and other bells and whistles. However, the most important option to look for is adjustable temperature settings. Not only does that allow you to select the appropriate heat setting for your hair type, but enables you to vary the temperature for more delicate styling tasks.
Below is Groom+Style's list of the top 5 best proffesional flat iron reviews on the market.
Alternatively, follow this link to find out about the top 5 best hair brush straighteners.
The BaByliss flat iron is a flat out beast! If you have thin or fine hair, it may be too powerful for your needs. Those with coarse, thick, or very curly hair will find it a miracle worker. BaByliss may not win points for its spelling prowess, but it is a leader in the haircare industry; the Pro Nano is very similar to the expensive flat irons you will see at upscale salons.
This ionic titanium model has 1¾-inch wide titanium plates which are longer than normal (five inches), making them ideal for long, thick hair. As mentioned, titanium is the best material for emitting negative ions, which helps reduce frizz and can repair previous damage.
It is also an exceptional heat conductor, which makes the hair straightening process efficient; one pass will normally be enough. In addition, the titanium plates provide a smooth surface for gliding the hair through without snagging.
The feature that the Groom+Style review team for art of hair loves most about the BaByliss is its variable temperature settings. There is no low, medium, high, or 0-10 scale. There are 50 selectable temperatures which run all the way up to 450°; the actual temperature is shown on an LED display.
This variable temperature capability gives you a measure of control you do not have with many other flat irons. It is particularly useful if you want to put a little wave into your hair or other styling tricks.
We also like the fact that this unit heats up very quickly, and stays evenly hot on the inside, but remains cool to the touch due to its Ryton heat-resistant housing. The only thing missing from this model is an auto-shutoff feature.
The Pro Nano delivers straight hair in half the time of traditional ceramic or metal plate flat irons while leaving hair silky, shiny and gorgeous. You have the choice of saving some money if you choose the BaByliss's 1¼ inch Pro Nano model rather than the 1¾ inch one.  One warning- this product is often counterfeited so make sure you buy the real deal.
Facts and figures for the BaByliss Pro Nano Titanium Straightening Iron:
Style: Ionic
Plate type: Titanium
Plate width: 1¾ inches
Temperatures: 50 settings up to 450°
Size: 12 x 2 x 3 inches
Weight: 1 pound
Warranty: Two years
Check Babyliss Pro Nano Titanium Straightening Iron Price on Amazon
FHI offers a wide selection of electric flat irons, but this model is their best. It features beveled ceramic plates which are tourmaline-treated, with the bevel making the tool ideal for curling or styling hair as well as straightening.
The manufacturer tells us that this flat iron works so well due its ionic design which combines three distinct Nano technologies 'Nano Ti, Nano To02 and Nano Ag'. GroomwithStyle is not clear what that means, but we do know that this technology works effectively on curly, wavy, and thick African-American hair, straightening it quickly, leaving it shiny and smooth.
The standard model of this flat iron comes with 1-inch wide plates, but FHI also offers models with smaller or wider plates.
The flat iron, known for its instant heat-up feature, heats up quickly, ensuring efficient styling. However, it is common for the temperature to fluctuate in ceramic tourmaline models like this one. To address this issue, the Platform Professional incorporates automatic sensors that promptly bring the plates back to their target temperature. A convenient green light indicates when the flat iron is ready for the next pass through your hair, providing you with a consistent and reliable styling experience.
The flat iron has adjustable temperature settings, ranging from 140° all the way up to 450°, thereby making it suitable for any type of hair. You can use this unit to style damp hair as well as straighten dry hair, and it performs both functions very well.
Groom+Style preferred the BaByliss flat iron, but the FHI is an outstanding model although rather expensive. Like the BaByliss, the model is counterfeited, so be careful when purchasing it online.
Facts and figures on the FHI Heat Platform Professional Ceramic Tourmaline Styling Iron:
Style: Ionic
Plate type: Ceramic Tourmaline
Plate width: 1 inch
Temperatures: 140°- 450°
Size: 11 x 2 x 3 inches
Weight: 1 pound
Warranty: One year, limited
3. Karmin G3 Salon Professional Ceramic Flat Iron
The Karmin G3 is a salon-quality flat iron and does a wonderful job straightening hair. It has tourmaline-infused ceramic plates like the FHI Platform Professional, rather than titanium plates like that of the BaByliss.
It is the highest-priced flat iron on our list. Those two factors dropped the Karmin down to position number 3 in our ranking. In spite of this, we would still be thrilled to have it as our everyday flat iron.
The ceramic 1-inch plates glide through hair without snagging, infusing it with negative ions, thereby making it shiny and healthy as the flat iron effortlessly straightens it.
The Karmin G3 is able to handle all types of full, curly and thick hair with a variable temperature function that runs all the way up to a toasty 460°. This is the highest maximum temperature we have seen, which is ideal for nearly impossible to straighten 4B and 4C African-American hair. The plates also float, a real positive if you have hair that tends to snag on a flat iron.
One drawback of this model is that its minimum temperature is 250°, which does not make this the best unit for delicate styling.
The Karmin G3 heats up quickly, has a one-hour auto shutoff function, and has been designed so that it will not tip or fall when you put it down. Those are small things, but taken together make this hair straightener is a solid, albeit, expensive option.
Facts and figures on the Karmin G3 Salon Professional Ceramic Flat Iron:
Style: Ionic
Plate type: Ceramic Tourmaline
Plate width: 1 inch
Temperatures: 250°- 460°
Size: 11 x 1 x 1 inches
Weight: 12 ounces
Warranty: Three years
Check Karmin G3 Salon Professional Flat Iron Price on Amazon
We admit that we tend to mark products down when they make a marketing claim in their name but cannot completely justify them. We have ranked the Bio Ionic flat iron at number 4 as it is really only a one pass unit on relatively easy to style hair. If you have very thick or very curly hair, expect that you will have to run the Bio Ionic One Pass through your hair more than twice.
In spite of this, this is a good flat iron for a ceramic model. The model has 1½-inch wide plates, and while it heats up quickly (five seconds) the highest temperature setting maxes out at 400°. That means it can handle much more volume than most ceramic hair straighteners, but may not get hot enough to straighten extremely curly or kinky hair. We would, therefore, recommend the Bio Ionic for those with thinner hair.
One unique design feature of this flat iron is that it has silicone 'speed strips' on the plates, which allows the unit to run through your hair quickly and without snagging. Whilst this design feature is useful, it does provide an area where hair product can accumulate requiring more cleaning than an ordinary model.
This is a good flat iron, particularly for thinner hair.
Facts and features on the Bio Ionic One Pass Nano Ceramic Straightening Iron:
Style: Ionic
Plate type: Ceramic
Plate width: 1.5 inches
Temperature: Maximum 400°
Size: 13 x 3 x 5 inches
Weight: One pound
Warranty: Five years
You do not have to spend hundreds of dollars for a good ceramic flat iron, and this Remington model is proof. This is an ionic model with floating ceramic-coated metal plates infused with crushed pearls, which makes the surface smooth.
The Remington flat iron does a good job straightening fine to moderately thick hair and reducing frizz. For a very reasonable price, you will not get all of the features included with our top-ranked flat irons. It is not overly versatile, reaching temperatures between 310° and 400°. It takes 30 seconds to heat up which is not as fast as the other models. Due to a lower level of ions it releases from the ceramic-coated metal plates, it will not make hair as silky smooth as our higher rated models.
The Pearl Pro is good value and would be a perfect first flat iron for those just getting into straightening their hair.
Facts and figures on the Remington S9500PP Pearl Pro Ceramic Flat Iron:
Style: Ionic
Plate type: Ceramic-coated metal
Plate width: 1 inch
Temperature: 310°- 400°
Size: 13 x 2 x 5 inches
Weight: One pound
Warranty: Three years
6. Eva NYC Healthy Heat Nano Silk Styling Iron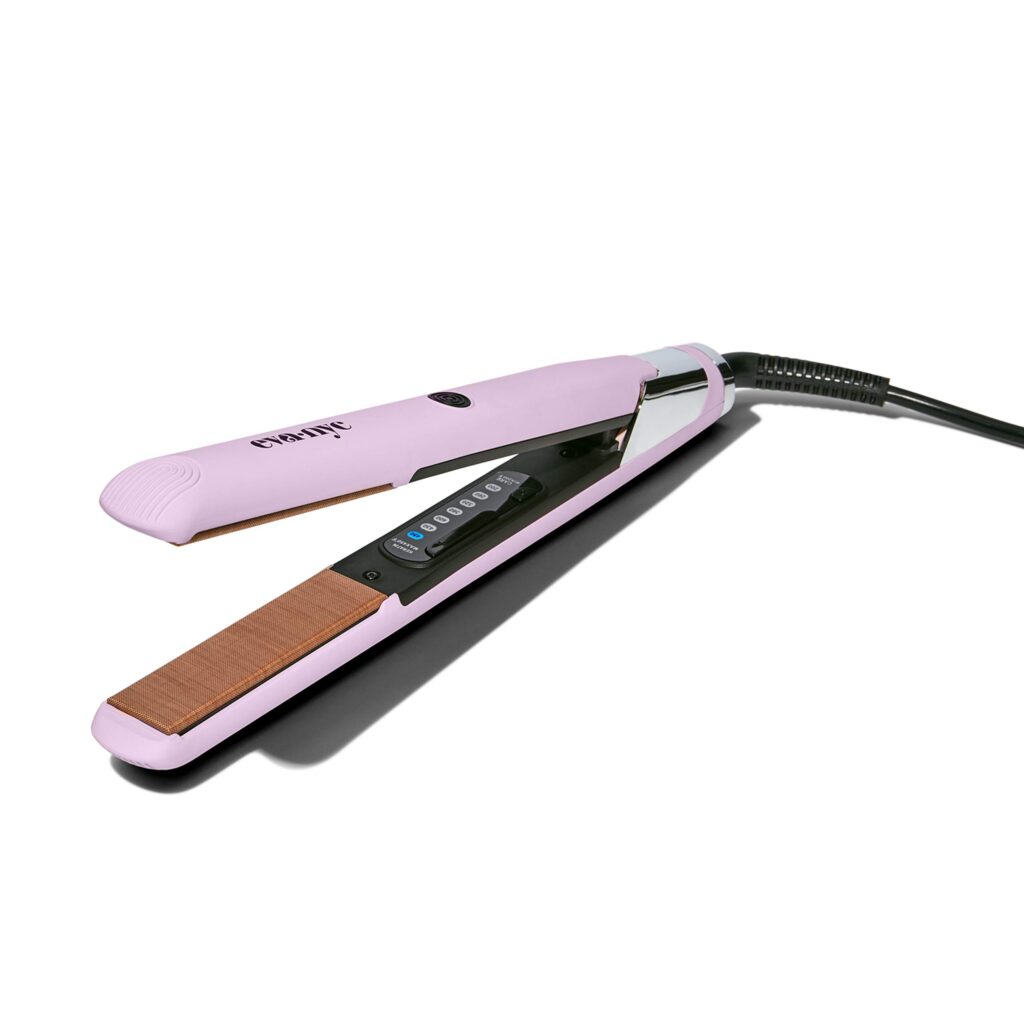 Keep your hairstyle looking perfect with the Eva NYC Healthy Heat Nano Silk Styling Iron.
We could say that this reliable and dependable styling iron features a range of styles, including straight, wavy, or curly. You'll never have to worry about leaving the styling iron on for too long; thanks to the auto shut-off feature, it will turn off after 60 minutes. Plus, its 360 swivel cord prevents tangles and knots while you style and the heat-resistant handle allows for comfortable use.
When you choose the Eva NYC Healthy Heat Nano Silk Styling Iron, you won't have to worry about damage – the ceramic plates protect your hair from excess heat.
The downside to the Eva NYC Healthy Heat Nano Silk Styling Iron is that it can be a bit pricey. However, considering all the convenience and professional-grade results it provides, its price tag is worth it.
7. Landot Hair Straightener and Curler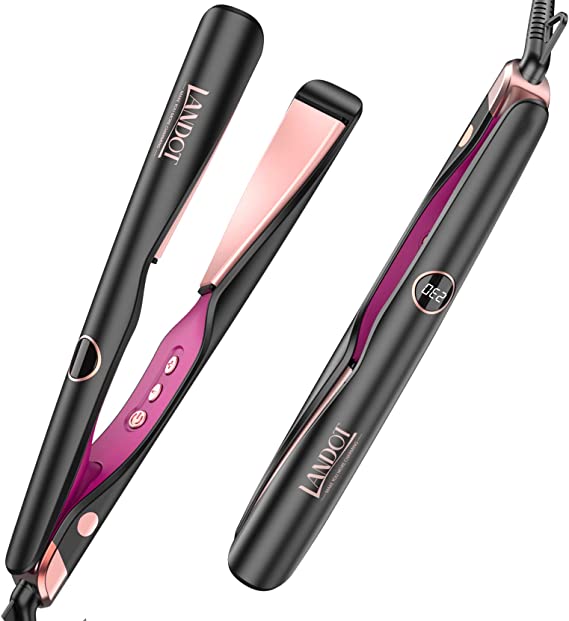 With the Landot Hair Straightener and Curler, you can get salon-quality styling without breaking the bank.
Its adjustable heat settings and versatile design ensure that you can create any style with ease. Plus, its 1-inch ceramic plates are perfect for styling both thick and thin hair. It also features an anti-static infusion to prevent frizz and tame flyaways.
Thanks to the digital LCD temperature display, it's easy for us to find just the right temperature for a particular hair type. You won't have to worry about space either, as this all-in-one solution is designed for easy storage.
Despite all these great features, curling your hair might take a bit more effort than straightening or flipping it. So, it won't work well with you if you prioritize curling hair.
Facts and figures on the Eva NYC Healthy Heat Nano Silk Styling Iron:

– Style: Ionic
– Plate type: Ceramic titanium
– Plate width: 1 inch
– Temperature: 250℉-450℉
– Size: 11.81 x 1.18 x 1.18 inches
– Weight: 14.11 Ounces
– Warranty: One year

Check Landot Hair Straightener and Curler Price on Amazon
Frequently Asked Questions
Is titanium or ceramic better for hair?
Both titanium and ceramic flat irons have their own unique advantages and disadvantages, and which one is better for your hair depends on your hair type and your styling needs.
Ceramic flat irons are a popular choice due to their quick heat-up time and even heat distribution, which prevents damaging hot spots. They are gentle on all hair types, including fine, thin, and fragile hair. On the other hand, titanium flat irons are durable and maintain high heat consistently, making them ideal for those with thick, coarse, or curly hair that is harder to straighten.
What flat iron is least damaging?
The best way to minimize damage caused by a flat iron is to use it correctly and pair it with proper hair care before and after styling. However, some features of flat irons can help reduce damage to the hair.
Flat irons that feature ceramic or tourmaline plates are considered to be less damaging than those with metal plates, as they produce negative ions that help seal the hair cuticle, leading to less frizz and damage.
What flat iron do stylists use?
Professional stylists use a variety of flat irons, depending on their personal preferences and the needs of their clients. However, Hair stylists recommend the Dyson T3 hair straightening machine as an affordable option for hair care.
CHI, a brand from the USA, is also recommended as it offers a wide range of flat irons with ceramic and titanium plates that provide consistently, even heat and reduce frizz.
Conclusion
Finding the best flat iron hair straightener for your needs is easier than ever with the help of this review, which has highlighted the key features to consider when choosing a hair straightener and provided information on some of the best tools available on the market.
By exploring these options, you can find the best flat iron hair straightener that fits your preferences and budget, and achieve salon-quality results at home.
The team at Groom+Style hope you enjoyed this review.  If so feel free to continue reading about the top 5 best hair dryers on the market right now!